In the spring of 1970, Robert Altman wanted to move to Canada. His black comedy, MASH, had just been hailed a critical and commercial success, but his grievances with corporate Hollywood and the American government were piling up. He and his wife filed the necessary paperwork and prepared to sell their house, but never ended up emigrating. Altman instead stayed in Malibu and established Lion's Gate, an independent production company that granted him the creative freedom he needed. In the summer of that year, he made Brewster McCloud.
When asked about Brewster McCloud in a 1976 Playboy interview, Altman responded: "I wouldn't say it's my best film […] but it's my favorite." Of course, he would go on to make another two dozen features and a fistful of miniseries, but he already had films like MASH, The Long Goodbye, McCabe & Mrs. Miller, and Nashville under his belt. Brewster decidedly triumphed.
The film follows a gangly Brewster (Bud Cort), the Icarus of counterculturalists, who lives in the fallout shelter of the Houston Astrodome. He's building a flying contraption, equipped with enormous mechanical wings, pulleys and harnesses; something lifted from the pages of Da Vinci's sketchbooks. With no desire to profit off of his invention and no real existence outside of the shelter, Brewster spends his days training to take flight with help from an enigmatic blonde, Louise (Sally Kellerman), and visits from a gingham-wearing, basket-toting, pig-tailed Hope (Jennifer Salt).
A number of storylines then bleed into one another, rarely managing to neatly converge. A slew of stranglings punctuated by bird excrement; Brewster's bizarre relationship with an Astrodome tour guide (Shelley Duvall in her first role); bumbling cops and slapstick-ish car chases; an ornithology lecturer (René Auberjonois) slowly devolving into a bird. Fifty years on, these absurdities still feel as fresh as they did when the film first premiered to a crowd of 23,000 at the Astrodome.
Altman's anti-establishment sensibility is spat onto the film's every frame, with batshit crazy antics being outweighed only by iconoclastic prods at Hollywood. The story itself can be understood as an allegory of the changing Hollywood workspace of the late '60s, one that favoured auteurism as a selling point – something that Altman disputed but couldn't help embody – and replicability over creative merit.
Beginning with the MGM logo, Altman mutes Leo the Lion's famous roar and replaces it with the words 'I forgot the opening line' – a biting disjunction whose indictment of studio tradition looms throughout. Next we see the Astrodome, a kind of consumerist epicentre, where advertisements line the interior walls and rows of empty stadium seats denote a collective need to be entertained. Like Altman to Hollywood, Brewster still lives within that arena, but creeps along the periphery, dodging security to pursue his fantastical project.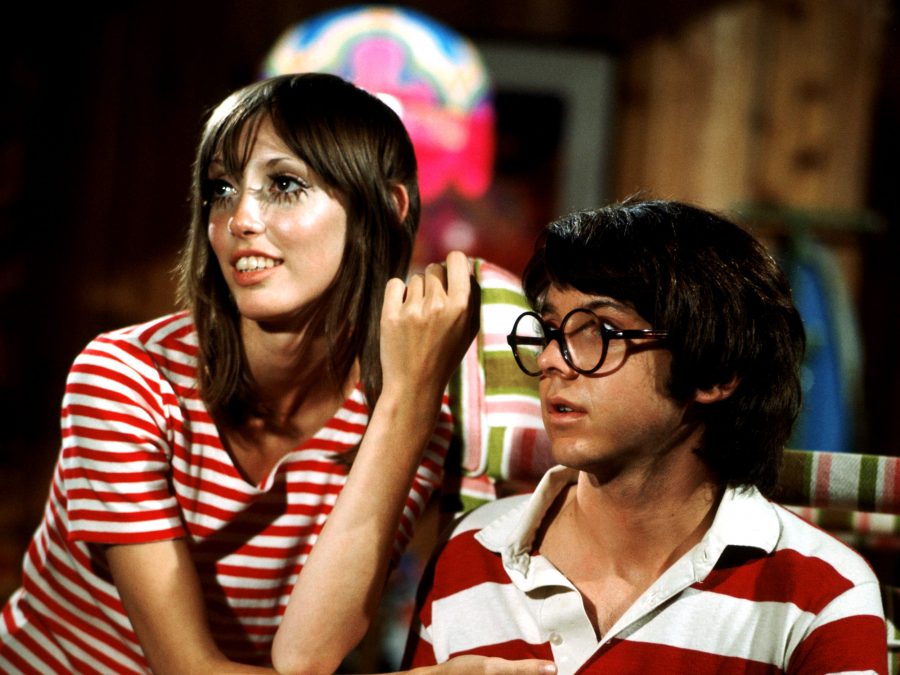 While the prospect of flight is felt throughout, Brewster's invention doesn't get any use prior to the film's climactic ending. While being chased by the police, who pinned him as the strangler, Brewster straps into his wings and furiously flaps his arms until he's soaring above them all, like a milk-and-water Superman. But his body quickly begins to heavy and he plummets to his death, with Brewster's shrieks culminating in a limp thud.
Seemingly appearing out of thin air, a crowd lets out a ringing applause from the stands. Circus performers storm the field. Fireworks are animated onto the stadium screens. Trombones flood our senses as men on small bicycles circle Brewster's body like vultures. Balloons fall, whips crack, and the ringmaster roars into a megaphone: "Ladies and gentlemen, the greatest show on Earth proudly presents the cast of Brewster McCloud!" There's a two-fold significance to the pageantry here: as a critique of studios' indifference to dreamers and Old Hollywood's emphasis on showmanship, but also as a spirited celebration of Altman's ragtag Lion's Gate crew.
As far as explicit references to Hollywood go, Brewster McCloud most conspicuously parodies The Wizard of Oz, with Margaret Hamilton reprising her familiar witchy, bitchy persona and Hope figuring as a visual stand-in for Dorothy. When Hamilton's character is killed, the last thing we see of hers is a pair of ruby red slippers flecked with bird droppings, scored by a few notes from "Over the Rainbow" (a song that played over a scrapped alternative ending).
There's another concussive moment where Brewster ignores Hope's sexual advances, prompting her to recline on a tatty mattress and begin touching herself under a blanket. Here we're given a figure of Old Hollywood iconography shamelessly masturbating to a New Hollywood Boomer-cum-killer. It's absurd, offensive, and just self-aware enough to stave off any angry Oz fans.
In his interview with Playboy, Altman confessed that the perfect response to his films would be someone saying "I don't know what it is, but it's right," and that "right comes from four or five layers down; from the inside rather than the outside." For months now, Brewster McCloud has been writhing around my brain, digging tiny gullies, splaying wings and dying on a loop. If that's not right, I don't know what is.
The post An auteur and his flying machine: Brewster McCloud at 50 appeared first on Little White Lies.
Source of the article : New feed at An auteur and his flying machine: Brewster McCloud at 50