You can define a star first by how little it takes to recognise them. We all know Marlene Dietrich, the minute we see a wire-thin eyebrow, waves of butter-yellow hair and a gleaming top hat. Or when we hear her: those low, stately notes singing of love affairs lost, abandoned or entered into recklessly, in a soft German accent that was never eliminated by Hollywood.
The second way to define a star is by how much more depth there is to their persona than that line sketch. A new season at BFI Southbank this month, Marlene Dietrich: Falling in Love Again, replays the iconic highlights of her career, but also delves into some less well-known films, including her work in the silent era and the only movie she made in Britain.
Dietrich maintained she never worked in silent cinema, but actually her first appearance on film came in 1923, and she worked in Berlin studios alongside her screen career. For a glimpse of the imperious leading lady she was to become, see Curtis Bernhardt's The Three Lovers, also known as The Woman Men Yearn For, from 1929. It's an unusual kind of love triangle, with Dietrich caught between two men, played by Swedish actor Uno Henning and German Expressionist heavyweight Fritz Körtner.
The first shot of Dietrich, seen through the ice-frosted glass of a train window, is a show-stopper, and as the director would later complain, the actress was already taking charge of her own lighting on set. Dietrich's renowned perfectionism and mastery of the camera began long before she moved to Hollywood.
That move to Hollywood, and Paramount, came courtesy of her international breakthrough in The Blue Angel, a German talkie directed by Josef von Sternberg, in which Dietrich plays Weimar femme fatale Lola Lola. Dietrich and von Sternberg would make six more films in Hollywood, a creative partnership that reached ever greater heights of visual ambition.
To sample the extreme edge of what Susan Sontag called their films' "outrageous aestheticism", try 134's baroque fantasy The Scarlet Empress, in which Dietrich plays Catherine the Great from her adolescent sexual awakening, to the consolidation of her power from the boudoir to the furthest corners of her empire. It has little to do with history, but everything to do with the power of pageantry, and exploring Dietrich's particular sexual allure.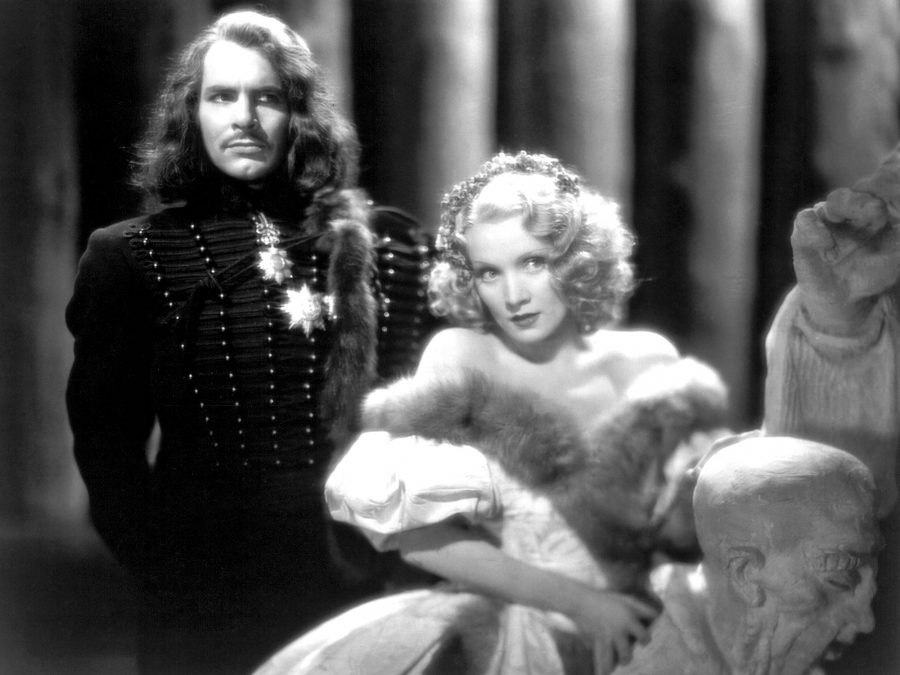 After Dietrich parted ways with von Sternberg, Paramount tried her in lighter, but sophisticated comedies. There's the delightful jewel-thief romp Desire, which reunited her with her Morocco co-star Gary Cooper, and Angel, an elegant, adult Paris-set comedy drenched in the bittersweet pleasures of the famed "Lubitsch touch".
In between the two, Dietrich was loaned out to an Alexander Korda production in Britain, 1937's Knight Without Armour, directed by Jacques Feyder and scripted by Frances Marion. While she was shooting this lavish romance set during the Russian Revolution, the Nazi regime tried to woo her back to the German film industry. Dietrich declined, and donated her fee for the film to help Jewish refugees fleeing Germany.
After Angel failed to become a hit, Paramount bought out Dietrich's contract and she was labelled "box-office poison". But Dietrich launched one of Hollywood's greatest comebacks with the comedy western Destry Rides Again opposite a young Jimmy Stewart. She would continue to gently spoof her Lola Lola persona in capers such as Seven Sinners, her first film with John Wayne, which sees her causing havoc in the South Seas and appearing in military drag.
In January, the BFI is releasing a box set containing Seven Sinners as well as three more of the post-comeback films Dietrich made at Universal, including two more collaborations with Wayne and the flirtatious charms of The Flame of New Orleans.
Post-war, Dietrich returned to bombed-out Berlin to film Billy Wilder's A Foreign Affair, the most poignant of comedies, in which she plays a cabaret singer suspected of Nazi connections by Jean Arthur's uptight Congresswoman. Singing "The Ruins of Berlin", a tune written by the same Friedrich Hollaender who wrote "Falling in Love Again" for The Blue Angel, in a German club for an Austrian director and an American audience, Dietrich brought all the strands of her career together in one unforgettably moving scene.
There were more collaborations with big-name directors to come (Wilder again, Hitchcock, Lang, Welles) and a second (or perhaps third) career as an international concert performer. Dietrich's status as a leading lady was sealed in the 1930s, but it was the years that followed that turning her a lasting, unassailable star.
Marlene Dietrich: Falling in Love Again is at BFI Southbank throughout December; The four-disc Blu-ray box set 'Marlene Dietrich at Universal 1940-1942' is available for pre-order from the BFI here.
The post The other side of Marlene Dietrich appeared first on Little White Lies.
Source of the article : New feed at The other side of Marlene Dietrich