In the opening scene of Stardust, Gabriel Range's new David Bowie biopic, we witness a merging of two powerful pop culture images: Bowie (Johnny Flynn) as Major Tom and the black hole sequence from Stanley Kubrick's 2001: A Space Odyssey.
You'd expect such a pairing when watching a film about the early inspirations of a relatively unknown Bowie, who was inspired to write his chart-topping hit 'Space Oddity', which introduced the character of Major Tom, after seeing Kubrick's film. But the comparison goes beyond just paying homage to the musician's artistic influences.
In fact, it introduces the concept of the fictional man. Bowie, like Bowman (Keir Dullea), is living between space and Earth; is he a spaceman or an earthling, in a movie or in real life? From the opening moments of Stardust, we're meant to understand that this Bowie is just as real as Bowman, which could mean not real at all.
Range's film draws on one of the most important aspects of Bowie's art: its connection to the cinematic. Bowie loved films, and many of his songs, stage productions and music videos took inspiration from works within the cinematic canon. As an actor, Bowie crafted a diverse and underrated filmography that saw him work with some of the world's most respected auteurs.
But for someone who had such a special relationship with cinema, Bowie never wanted a biopic to be made of his life. We've seen other musicians with a similar taste for the dramatics thrive in the recreation of their life on film, such as Elton John and Rocketman, but until now no filmmaker has been able to make an authorised biography of Bowie.
And there's a reason for that. Bowie was above all a performance artist; he played his role until his dying day, giving us a consciously constructed identity throughout his entire career. Bowie was a character, not a man.
Indeed, 'David Bowie' was created by David Jones, and Ziggy Stardust, Aladdin Sane and the Thin White Duke were extensions of this character. From the peak of his fame in the 1970s through his transition to bohemian Berliner and '80s pop stardom, he constantly changed and adapted his persona, never allowing us to see behind the mirage. David Bowie was David Jones' greatest work of art.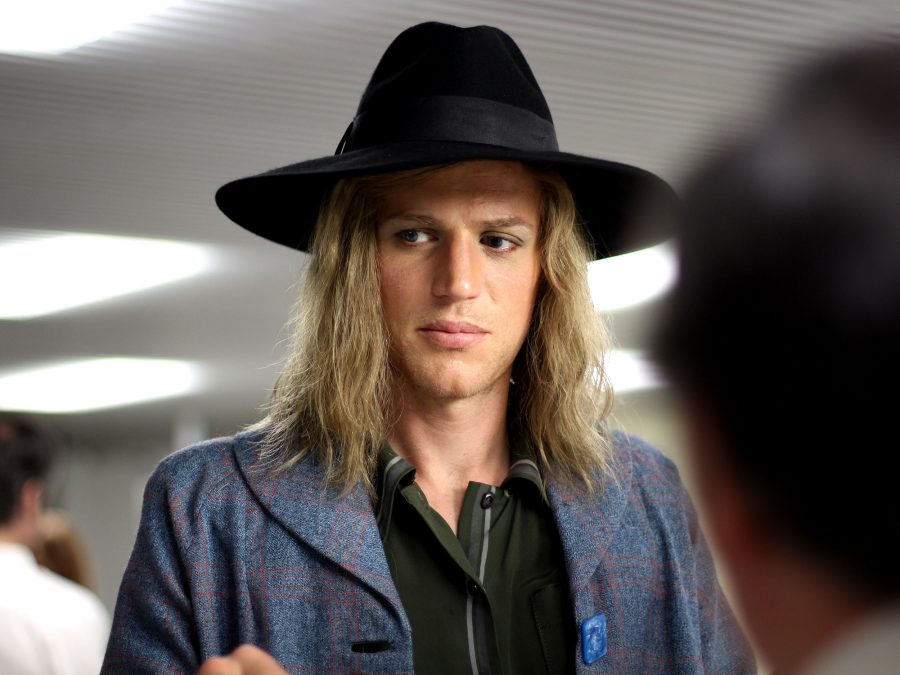 Bowie was never authentic in any representation of himself; he was a hypocrite, a contradiction. He repeatedly morphed into something else, so that we could never truly understand the man behind the mask. As Elizabeth McCarthy, an academic on Bowie's stardom, notes: "'Bowie' becomes a collaborative project with no real beginning and no real end."
It's clear, then, why Bowie's estate will never authorise a biographical film about him – it would simply spoil the illusion. Nonetheless, there have now been two dramatic interpretations of the David Bowie story: Stardust, which has been rejected by his son, the filmmaker Duncan Jones, and Todd Haynes' Velvet Goldmine, which at one point during production was threatened with a lawsuit. These films, despite their unofficial status, play an important role in the immortalisation of Bowie's fake image.
Velvet Goldmine, which was initially a much closer retelling of Bowie's metamorphosis into Ziggy Stardust, follows journalist Arthur Stuart (Christian Bale) as he embarks on writing an article about the enigmatic, now reclusive, pop star Brian Slade (Jonathan Rhys Meyers), who planned a fake assassination of himself during a performance as his alien alter-ego Maxwell Demon. The film makes an obvious comparison between Bowie, who 'killed' his own alien alter-ego when he proclaimed to his adoring fans at the Hammersmith Odeon that "this will be the last show we ever do."
Although the film recounts Slade's rise to cult stardom, the story isn't exclusively about him. Rather, it's a reflection on the influence one man, or perhaps the idea of a man, can have over an entire generation. Arthur never gets to know Slade; he only knows the concept of him that has been created through the memories of those in his personal circle. But what Slade stood for – his queer artistic expression – allows Arthur to find himself, to understand his own identity. Although Slade is a fictional version of Bowie, in a very real way he captures the most important part of Bowie's influence as Ziggy: the power of creative individual identity to change the thinking of a generation.
Unlike Velvet Goldmine, Stardust is more literal in its recreation of Bowie's life. Set in the early '70s, it sees Johnny Flynn's Bowie trying to make it big in America before the creation of Ziggy Stardust. The film follows the bare bones of what is known to be accurate from that time: Bowie went to America with Mercury Records to tour his album 'The Man Who Sold the World', and the visit was a complete failure, not gaining the musician any more acclaim or popularity than he came with.
But this is where the biographical nature ends (the film begins with the disclaimer "This film is [mostly] fictional"). Range and Flynn make it clear that this Bowie is pure fiction. Flynn is hardly a dead ringer for Bowie; aside from his clothing and cosmetics, he doesn't really look or sound like the singer. We aren't meant to see Flynn as Bowie (or David Jones, for that matter), but rather as a Bowie character – this one is the insane, philosophical rock star on the brink of a schizophrenic breakdown.
Both of these films teeter on the edge between fiction and reality. They show us only what we know to be true about the star from public knowledge, since neither production had access to people who knew Bowie personally. Because of this, they serve as yet another piece of fiction; another piece of the performance art that is David Bowie. These films, like Bowie himself, project yet another fictionalised version of the star: Velvet Goldmine plays with actually making Bowie a fictional character, whereas Stardust fictionalises the man.
Where Stardust fails in capturing the life and work of David Bowie is that, from the beginning, it labels itself as a biopic. But, in a way, Velvet Goldmine is more autobiographical than Stardust or any other Bowie 'biopic' will ever be. Haynes understood the essence of Bowie: for you simply can't make a film of his life, you can only recreate the Bowie character of that time. A biopic begs for authenticity, but there was nothing authentic about Bowie. There was only performance and spectacle. And the beauty of understanding Bowie's work is finding the authenticity within the performance.
Perhaps Brian Slade, paraphrasing Oscar Wilde, said it best: "Man is least himself when he talks in his own person. Give him a mask and he'll tell you the truth."
The post Why a David Bowie biopic will always be doomed to fail appeared first on Little White Lies.
Source of the article : New feed at Why a David Bowie biopic will always be doomed to fail